MYO is a lightweight elastic armband released by the Canadian startup Thalmic Labs. It consists of a number of metal contacts that read the muscle movements in your forearm to transmit gestures that you make with your hand to a connected device via Bluetooth. Separate gestures have their own functions like stopping/playing music or skipping tracks. It comes in two colors -black and white- and you can buy it off of amazon for $150 on discount (it's official price is $199).
Design
The Myo looks like a futuristic sweatband. It is pretty comfortable to wear although it is clearly not the kind of thing that you'll easily forget you have on. Furthermore, it tends to leave marks on the arm if it is worn for an extended amount of time. It is expandable between 7.5-13 inches forearm circumference and weighs around 93 grams. It further comes with 10 sizing clips for adjustment of the band and to make sure that it fits your forearm perfectly.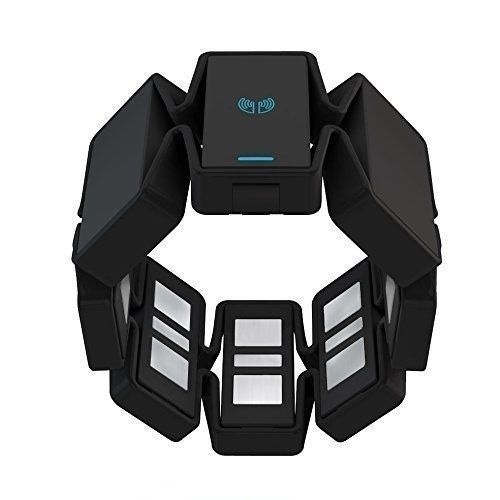 The armband is essentially made up of eight rectangular bands that are held together with the support of a rubber casing. Each block contains a "medical-grade" stainless-steel electromyography (EMG) sensor, which is used to read the electric impulses in the muscles on your forearm. Along with the sensors, it also comes with a three-axis gyroscope, a three-axis accelerometer and a three-axis magnetometer, to support in measuring the arm motion.
The battery life of the Myo is pretty great. It lasts up to a full day with continued use, or up to a week when in standby mode. It can be charged using a standard Micro-USB cable and normally takes up 2-3 hours to fully charge. The band's LED pulses orange when charging and then changes to solid green when fully charged.
Performance
Although the Myo can recognize many gestures, there is significant learning period that comes before you can start using it. You must first download the company's software to set-up the Myo and then move ahead to learn the gestures. Along with the band comes a small Bluetooth adapter, which allows the armband to connect with computers. However, even if your computer has an inbuilt Bluetooth, the adapter is required, which seems pretty finicky.
Once the band has been set up, you can begin to learn the gestures. There are five basic gestures: double-tap, spread fingers, wave right, wave left and make a fist. You can customize these gestures to perform different actions on your computer. There are also a couple of double gestures like making a first and turning it clockwise to zoom in on your computer screen, but these can prove to be confusing and hard to remember.
Also, if you face difficulty in getting the Myo to register your gestures and movements, you might want to check the device's calibration profile. It turns out that by default everyone uses Thalmic's own calibration profile and so, you'll have to manually calibrate it to make it more responsive.
Verdict
The Myo recognizes your hand movements that it then translates into specific controls on your computer or smartphone, which can be pretty handy sometimes. It works best when controlling presentations in PowerPoint or Keynote. Although, it is much easier to use a mouse and keyboard for particular things.
But the Myo is more than just a presentation tool. Thalmic Labs and a number of third-party developers have created numerous apps that help bring the Myo to life. For example, there's an app that lets you fly a Parrot drone and another for playing Minecraft, just using hand gestures. Furthermore, the Myo could also appeal to sports fanatics, as there exists an app that allows the band to sync with the GoPro cameras. This proves to be quite convenient as one can easily start and stop recordings with simple gestures. Another sector it can find a niche in is the gaming sector. Myo versions of games can combine gesture controlled use with VRs like the Oculus Rift VR headset and completely revolutionize the gaming experience.
However, the armband is pretty expensive and it comes with a significant learning period before using it. Furthermore, it sometimes has trouble recognizing some gestures. So while it is a pretty handy system for a given tasks, the error rate is a little on the higher side.
There's no doubt that the Myo has potential, but at this point, the gestures are pretty basic. For example, one can't resize images on the computer screen or grab a file and toss it in the recycle bin. Gestures may be useful one day, but as of right now, it is more convenient and cheaper, to continue using a mouse and a keyboard.