OVERVIEW
The Kodak Pixpro SP360 4K is the first 360-degree VR camera in 4K and it was launched in the European market in October 2015. It is an update to the Pixpro SP360 360-degree camera. The new version comes with 4K resolutions and adds some extra coverage across the vertical axis – it only has 360-degree coverage across the horizontal – which allows one to capture more immersive experiences. If you want to capture a full 360-degree video (both horizontal and vertical axes), then you'll have to use the Dual Pro Pack, which consists of two Pixpro cameras. The dual system works well although it takes some time to get accustomed to.
PRICE
SP360 4K – Aerial Pack
This includes two cameras and a SOLO (TM) Mount, along with some accessories. It is priced at $999.99 .
SP360 4K – Dual Pro Pack
This includes two cameras along with some accessories and is priced at $899.99 .
SP360 4K – Premier Pack
This includes one camera along with some accessories and is priced at $499.99 .
KEY FEATURES
360 degree field of view

Up to 3840×2160, 30fps video

F/2.8 aperture lens

Electronic Image Stabilization

12.76mp [ 1 / 2.33 in BSI CMOS ]

Wi-Fi and Bluetooth connectivity

Integrated NFC

YouTube and Facebook 360 degree Video compatible

Viewing options: Dome (235°), Front, Global (360°), Ring, Segment (180° front and 180°rear) or Panorama mode

Dimensions: 48 x 50 x 52.5 mm; Weight: 127.7g
DESIGN AND SETUP
The Kodak Pixpro SP360 4K is shaped like a box with the lens pointed upwards such that the body acts as a base for the lens. Its measurements are such that it just fits in the palm of one's hand. This set-up gives a horizontal 360-degree footage however; some of the vertical perspective is lost at the bottom. If you want to capture conventional videos, then you can face the camera forward, which gives it a flat perspective.
Most of the control buttons are located on the sides of the camera. One side contains the controls for the shutter and the settings adjustment whereas another side contains a small LCD display, which can be used to navigate through the system menu. Another side consists of the Micro USB, Micro HDMI ports and the microSD card slot, which remains hidden behind a rubber flap. The camera is splash proof and hence, can be used in a little bit of rain. However, it is not ruggedized and the plastic covering definitely won't survive fast-tracked falls to the ground, although it is rated shockproof to around two meters. The lens comes with a plastic lens cover and a lens cap to provide it some protection.
If you want a complete 360-degree footage, then you can use two cameras together and hoist them up on the dual-camera plastic frame. However, the frame blocks access to some of the ports like the USB and HDMI ports, which can get annoying if you want to access or charge the cards during a shoot.
The body consists of all sorts of settings that can be changed in-camera. Some of these settings include resolution, perspective, white balance and turning the image stabilization on or off. The only problem is that these are all represented by monochrome icons on the LCD screen and are hard to find through the menu options. Moreover, the instruction manual is more complicated than it needs to be.
If you want to shoot a spherical video using the dual camera then you need to change some setting as well. You'll have to disable the electrical image stabilization on both the cameras and set it to 1:1 aspect ratio mode. Furthermore, you'll also need to set both the cameras to a manual white balance. Surprisingly, the latter was not even mentioned in the instruction manual. This is the kind of finickiness one can avoid with single 360-degree cameras.
ACCESSORIES
The Kodak Pixpro 4K model comes with a lot of accessories including waterproof housing and a dual-camera plastic frame mount to create fully spherical footage. The Dual Pro Pack comes with a telescopic selfie stick, a suction cup mount and a mount designed for one camera. Other accessories include a wrist strap remote that one can use to control up to five cameras simultaneously, and a small clip, which can be used to attach the remote directly to the selfie stick. The remote control uses watch batteries and the removal of these batteries is quite fiddly.             
VIDEO AND SOUND QUALITY
The video produced by the Kodak Pixpro SP360 4K is amongst the best in terms of image fidelity. The videos were very crisp and detailed. Although with spherical videos, some imperfect stitching errors might occur.
On the default settings, the colors are a bit muted, but there is a setting to make the colors brighter. However, when shooting a spherical video, you'll have to change the setting for both the cameras.
Exposure is well maintained although some highlight details get lost in the sky. One thing you'll have to be aware is that the protective lens covers pick up fingerprints and smudges very easily. SO, before you start shooting, make sure to them a wipe down to avoid smudges in the final footage.
Camera shake isn't a major issue while using the telescopic selfie stick. However, the stitching is much better with stationary footage, such as when using a suction cup mount. Sound quality is excellent with sensitive microphones as they capture sound from all directions and bring the footage to life.
BATTERY LIFE AND CHARGING
The battery life provides you with almost an hour of 4K video shooting. One can charge the battery either in-camera by using the micro USB or remove the battery and charge it in the included charger.
INCLUDED SOFTWARE AND APPS
After getting the footage, it'll need to be stitched together using Kodak's free PC or Mac software. You'll have to manage two separate memory cards and manually match the two videos to create a completely spherical footage. Once the two videos are selected, the editing software tells you if they're suitable for stitching.
However, the stitching isn't going to perfect and you'll most definitely have to adjust individual settings on the two videos to get things lined up. Even then, there might be some objects in the frame that won't be perfectly aligned and fixing that might prove to be an extremely slow and tedious process.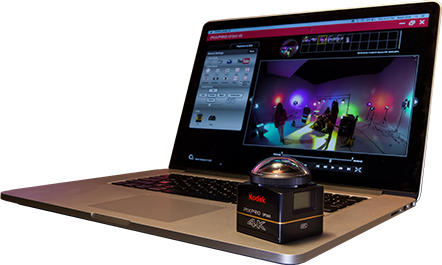 You can shoot with a single camera to avoid stitching issues, however, you'll end up losing a part of the lower frame. Single camera footage is captured at up to 3,840 x 2,160 at 30 fps when shooting in flat mode and in round mode you're limited to 2,880 x 2,880 resolution at 30 fps.
After the stitching or editing is done, the software outputs the video as an .MP4 file. YouTube and Facebook recognize these videos as VR-friendly videos and the user is free to upload them without any issues.
PROS AND CONS
| | |
| --- | --- |
| Pros | Cons |
| Great 4K video quality | Dual-camera shooting is cumbersome |
| Versatile multi-camera shooting options | Difficult to stitch footage |
| Good array of included accessories | Cameras aren't ruggedized |

VERDICT
As a stand alone, the Kodak Pixpro SP360 is easy to use, however it won't give you a completely spherical video. Whereas by using dual cameras you can get a spherical footage, however, it is fiddly and time taking to use the two-camera setup and then stitch the footage. The Kodak Pixpro's strength lies in its versatility in multi-camera shoots as compared to 360-degree camera systems that integrate dual-cameras into a single unit. Also, the image and sound quality is pretty good.
Overall, the Kodak Pixpro SP360 4K is capable of great quality 360-degree videos with the help of dual camera mode but it is hampered by the fiddly camera management and the tiresome video stitching.